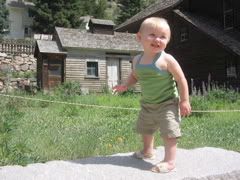 In "downtown" Silver Plume, Colorado
The Sopp and Truscott Bakery is reason enough to circle Silver Plume, Colorado on your map (exit 226 on I-70, about 45 minutes from Denver) as a place to stop. It doesn't have to be a long stop, but it's definitely worth the trip.
Silver Plume is a tiny town that appears to be stuck in time. But it also holds a secret treasure family run food stop - The Sopp and Truscott Bakery. They have several types of really great breads, cookies and other baked goods. And they make sandwiches at lunch time, which are perfect to eat at their picnic table or on their front porch swing.
Sopp and Truscott is located on the dirt road known as Main Street, you'll think you must be going the wrong way but I assure you, you're not. The address is 486 Main St. It's only open 7a-5p Thursdays thru Sundays right now. You can call for more info at: 303-569-3395.
There is other stuff to stop in Silver Plume for. You can catch the historic narrow gage railroad
The Georgetown Loop
near by.
Check out the slide show of photos of the beauty of Silver Plume and of the Sopp and Truscott Bakery.