By Angele Sionna
Route 66 & Railroad Springs – Inside the Whistle Stop Fuel Station
Menu:
scottschicagopizza.com


The Food (taste/flavor/quality of food & drinks)
>>>= good, but not great

The Atmosphere (environment, wait staff, comfortableness)
x= if the food's good enough, still worth going, otherwise forget it

Price (what to generally expect to pay per person per entree)
$$= $10

Value (what you get for your money)
** = okay - overpriced for quality/taste
Can good food be found inside a gas station? Most definitely. I've eaten at several good eateries in my day located in the most unlikely of places. But I was still a little leery of ordering Chicago-style pizza from Scott's Chicago Pizza. First, it is in a gas station. And of all the foods I've had and enjoyed at gas station restaurants, pizza had never been one of them. Second, this is Chicago-style pizza we're talking about. Having lived in Chi-town I know my way around some of the best pizza joints in the world. So my expectations are always low to find a decent Windy City pie outside the Windy City. Still, I'd gotten a recommendation to try it, so I loaded the family in the car at set forth for the far west side of town hoping for the best.
When we arrived at the Whistle Stop Fuel Station I had my husband run in to make sure we were in the right place. Their sign said, "deep dish slice $3" but I didn't see a sign for Scott's anywhere. But sure enough, there it was, tucked in the corner to the right of all the typical convenience store goods.
There are only two tables inside the store, one on each end. A little weird to eat next to the chips and candy isle, so we opted for the outside seating at one of the three picnic tables around the corner to the left of the station. There aren't any high chairs, so it was a good thing we had the stroller in the car for our youngest.
To order, you go up to the counter, which has Chicago Cubs and White Sox memorabilia all around. I was leery, as I said, so I quizzed the poor girl on duty about the details of their Chicago-style deep dish. Most places say Chicago-style but they don't have a clue as to what that means. Not the case at Scott's. They know exactly what it means, but they don't mean the famous Chicago-style stuffed pizza that is truly a pie with a top layer of crust and extra sauce on top of that. They make Gino's East-style pizza, complete with the chunky Italian-style tomato salsa on the top and the cornbread type crust.
We ordered the small Cheese Deep Dish ($7.50). That's what we used to order at all the pizzerias when we lived in Chicago and we wanted to compare apples to apples. The girl at the counter warned me it would be small for two people, but I went ahead and ordered it anyway because Chicago style pizzas normally are more filling. Bad idea. Though the menu says seven inches, it was really more like five and should be called a child or personal pan-sized pizza. It only has two small slices. The 10" ($11.50) would be a better fit for two adults.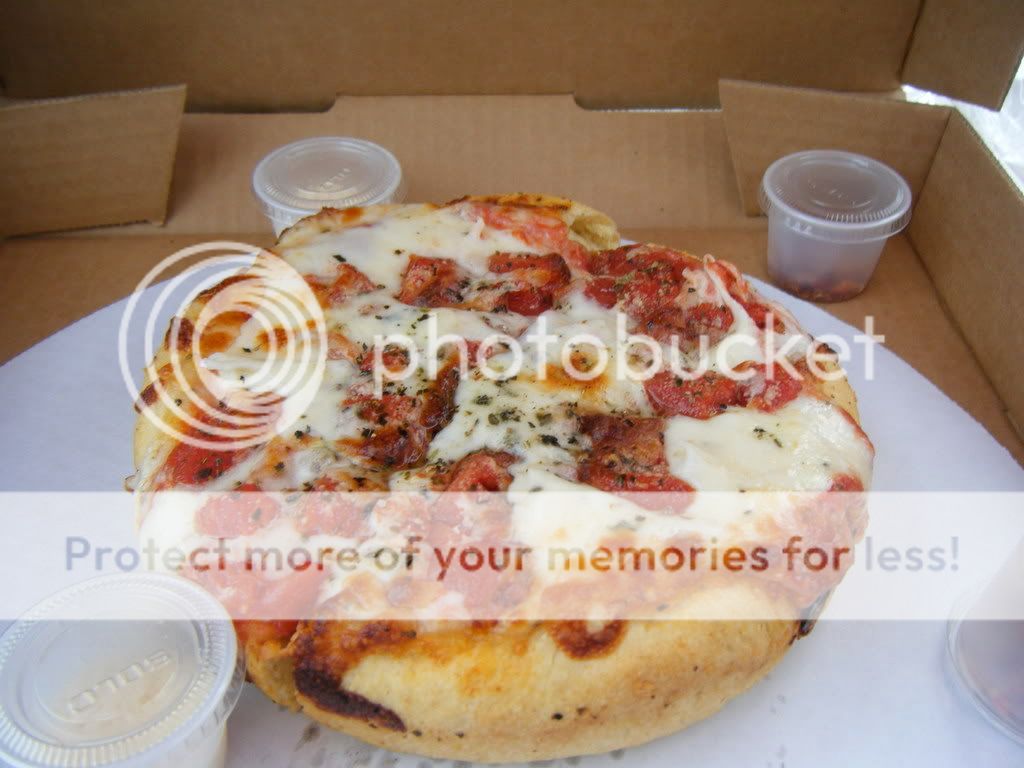 It takes about 20 minutes to cook a small cheese deep dish, and the time just increases the bigger the size and the more toppings you get. Knowing this, you should definitely call ahead if you want to dine in unless it's a really nice day and you enjoy watching people fill up their tanks.
The pizza itself was pretty good. I personally like it better than the Gino's East pizza in Chicago. But, and this is a big but, I don't like Gino's East. I'm more of a
Chicago's Pizza
or
Pizzeria Uno
stuffed Chicago-style kind of a gal. Still, Scott's salsa-style chunky topping was good, a little sweet and a little salty. The cheese was average but plentiful. The crust, as I said, has cornbread in it, so it has a really grainy texture and is dry. My husband, who was born and raised in Chicago and likes Gino's East didn't care for Scott's deep dish pizza at all, calling it a "poor man's version of Gino's East." But I maintain that if you're not familiar with real Chicago pizza, you'll like Scott's for a change of pace in your pizza dining. It's definitely not like any other pizzas in town.
Other items on Scott's menu include: thin crust pizza, salads, wings, and chili. All of the pizza names have fun Chicago-inspired names like "Magnificent Mile" and "Monster of the Midway." Nice touch. I'd say if you were on a road trip passing through Flagstaff, you should bring along their number (928-226-0065), order when you're about half an hour outside of town, filler up at the pump, then pick up your pizza pie. There's a roomy lot with enough space for an RV to pull up and grass nearby to walk the doggies. Note: if you don't want to eat there, Scott's does deliver… to a limited area, with a minimum order of $15, plus a $3 delivery fee.
**TIP: Before heading to Scott's check their website or your phone book for some good coupons. They have coupons for $2 off any pizza or buy one large deep dish, get one large one topping thin crust for half. They're good through May 2009.**
For more photos of Scott's Chicago Pizza, click
HERE
.
__________________________________________________