By Angele Sionna
[caption id="" align="alignright" width="250" caption="Sakura's known for their fire-side atmosphere"]
[/caption]
1175 West Route 66, Flagstaff, AZ
Inside the Radisson Woodlands Hotel
Menu at:
sakuraflagstaffsushi.com


The Food (taste/flavor/quality of food & drinks)
>>>>= a favorite, can count on it being good every time

The Atmosphere (environment, wait staff, comfortableness)
xxxxx= you'll love it

Price (what to generally expect to pay per person per entree)
lunch: $$$ = $15
dinner: $$$$=$20

Value (what you get for your money)
lunch: ***** = superb -lots of quality/taste for what you pay
dinner: ** = okay - overpriced (compared to lunch)
[caption id="" align="alignleft" width="200" caption="Plates are set on fire as part of the "Ring of Fire""]
[/caption]
Pyro-chefs that set the tables on fire daily. These "rings of fire," as Sakura calls them, are the first thing you'll notice that sets this Japanese restaurant apart from any other restaurant in Flagstaff, or anyone I've ever eaten at, actually, anywhere in the world. Once you get over the serious heat in your face (that my oldest daughter loves to watch, by the way), and the food is served up, you'll know why Sakura has been recognized by Food & Wine magazine as one of the "Best Restaurants of the Southwest" and has been voted Best Japanese restaurant for ten years by readers of the Arizona Daily Sun. There have been weeks that I've eaten at Sakura twice because I just couldn't help myself. I love their Ginger sauce, and at lunch you just can't beat their prices for what you get. It could be the best overall value for lunch in town. Dinner is a different story, though. You basically get the same size meal but with a salad for about $6 to $10 more. Not a bargain.
Now before I go any further, I should say that I am only talking about Sakura's teppanyaki food cooked and served at the big tables in this review. I've never eaten at the sushi bar, so I can't speak to it. I brought a friend to eat here from out of town and she ordered sushi and gave it two thumbs up, but that's the extent of my sushi knowledge at Sakura.
Sakura is a place where I tend to bring guests (along with Beaver Street for another meal on their visit). My mom, who used to live in Japan, always asks to go here when she comes to town. Sakura is basically like the famous chain restaurant
Benihana
(which you can find in Phoenix, Salt Lake City, Denver and other cities across the U.S.). A trained chef cooks everything in front of you. My favorite day to go to Sakura is when the head chef is on duty (generally, I can find him there on Wednesdays). He has extra special skills and my husband and I always give each other "the nod of inner excitement" when we see him pushing the food cart over to our table. It shows in the delicious way he seasons the food that he is in charge here for a reason. (Plus, he's really nice.)
[caption id="" align="alignright" width="150" caption="Food is served hot & fresh, grilled right in front of you"]
[/caption]
When you get to Sakura, you're seated around a long rectangular table with everyone facing the grill. After the waiter takes your order, you wait for soup that comes with every entree (and other appetizers) to be brought out. Then your chef arrives at your table pushing the food cart with all of the ingredients that will become your lunch or dinner. Depending on the chef, the show changes. Some go all out with theatrics, some really get into making the "ring of fire," others are serious business about making the food. But that's one of the things I like about Sakura. No matter which chef you get, you're going to have a unique experience and you're going to have a good meal.
There is one downside to the Sakura experience, it can take forever from the time you arrive to the time you leave. We've spent three hours here at lunch before when we sat at a crowded table where everyone ordered appetizers. Normally, it takes closer to one hour and some change. Faster, if there's more than two chefs on duty, but that seems rare at lunchtime.
[caption id="" align="alignleft" width="200" caption="Chicken & Shrimp entree with double ginger sauce"]
[/caption]
As far as the food goes, your best bet is to go hungry... then order the Sakura Grill ($13.95, lunch; $23.95, dinner), which is kind of a big sampler plate with grilled shrimp, chicken and steak. All the teppanyaki meals come with steamed rice and hibachi vegetables. A lot of food, but oh so good. It is all cooked to your specifications, seasoned with soy sauce, butter, salt, wine, vodka, and/or teriyaki sauce (depending on what you order, of course) and flamed grilled to release all of the scrumptious flavors waiting inside. I've never had anything here that was too dry. It's always juicy. My personal favorite is the "Chicken & Shrimp" ($11.95, lunch; $20.95, dinner). Other entrees include: Salmon ($11.95, lunch; $18.95, dinner), Mahi Mahi ($11.95, lunch; $23.95, dinner), Calamari ($10.95, lunch; $17.95, dinner), Hibachi Chicken ($9.95, $16.95), Spicy Steak ($10.95, lunch), Vegetable Yakisoba ($8.95, lunch; $14.95, dinner), and more.
I have to recommend skipping the teriyaki sauce, something folks new to Japanese tend to order. I make this suggestion only so you can enjoy and savor the flavors of the food. It is so good you don't need a heavy sauce like that. Though if you do opt for it, Sakura does have a good teriyaki sauce.
The side of ginger sauce that the chef serves up when he finishes cooking your meal is my favorite. It adds just the right zing to your meats. It is a touch sweet, a little zesty, and a whole lotta tangy. I like it so much I order two ginger sauces instead of the spicy mustard sauce. I use it on everything. If it's your first visit, try both to see what you like.
[caption id="" align="alignright" width="200" caption="The head chef cooking up fried rice"]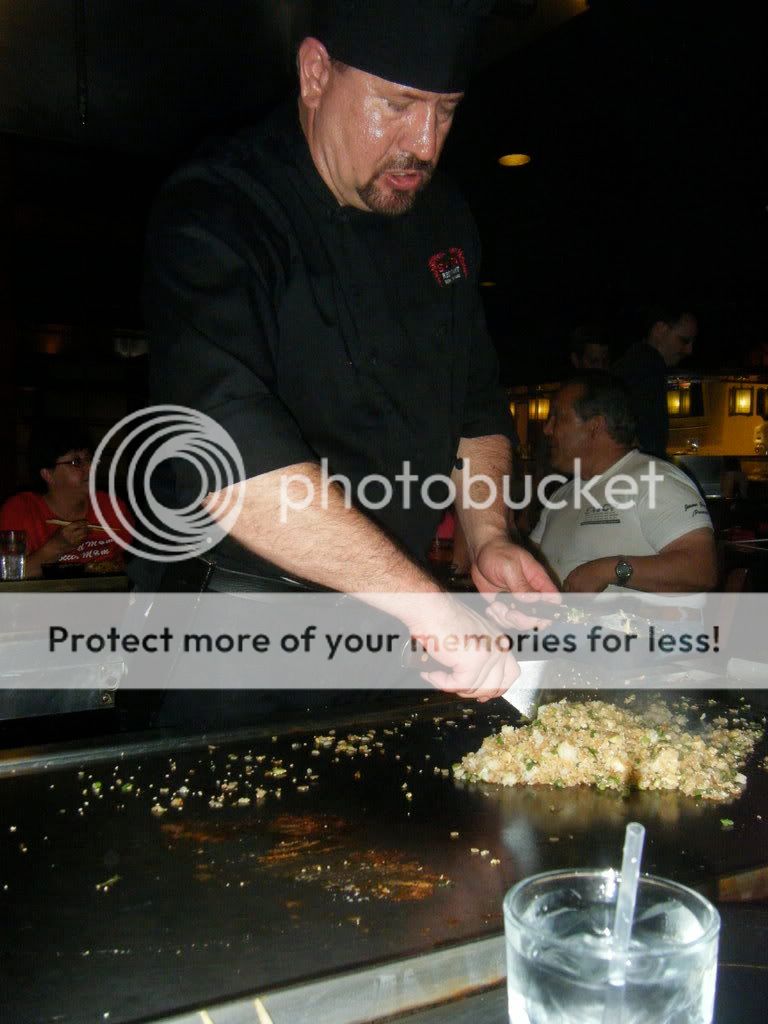 [/caption]
I like to order a side of fried rice ($2.50) as the main course for my two year old, then "help" her eat it and share some of my plate with her. It is cooked with eggs, green onions and spices. Sakura does have kids versions of the meals for $7.95-$9.95 for older kids. The portions are always generous, so no one goes home hungry after eating here, even if you share with your tots. We're usually so full from eating lunch at Sakura that we skip dinner or just have a small salad.
If you can make it to a desert without exploding, the green tea ice cream is yummy. It has a weird texture for ice cream. It's not creamy, so much as it is chalky. But I like it and so does my daughter. If it's your birthday, they serve some to you with a candle and a song.
I suggest skipping the soda and ordering hot green tea. It takes fantastic and it's free. Nice bonus, though it doesn't say so on the menu. Sakura also serves a selection of Japanese beer and sake, if you're so inclined. I like the Kirin Lager ($4).
**TIP: Sakura offers a great discount for NAU employees – 20% off! It just makes the Sakura experience even better. But be sure to ask for the discount and present your card. The waiter won't offer it. We found out about this about a year into eating there when another group asked for their NAU discount. My husband immediately got out his NAU ID card and asked for the discount too. And we've been reaping the benefits ever since!
For more photos of Sakura, click
HERE
.