By Angele Sionna


1740 E Rte 66 (just east of Enterprise)


call ahead for hours or catering at 928-699-2707




The Food (taste/flavor/quality of food & drinks)
>>>>= a favorite, can count on it being good every time

The Atmosphere (environment, wait staff, comfortableness)
x= if the food's good enough, still worth going, otherwise forget it

Price (what to generally expect to pay per person per entree)
$                    under $10

Value (what you get for your money)
**** = worth it – you won't be disappointed with what you get for your money
You may (or may not) have seen a long black trailer with a big black smoker at one end of it on Route 66. That is all there is to Big John's Texas BBQ. Inside is a tasty treat for barbeque lovers... and I'm talking real BBQ. The kind that doesn't need any sauce to taste good. A real rarity in these parts.
We drove by and talked with John about his movable roadside joint. He's there every Thursday, Friday and Saturday. Unless there's high winds like last week, then he might be there on Sunday too. We only had a sample because we'd already had dinner, but my goodness. It was good. Smokey meat that's been cooked the right way. I can't wait for Thursday to come around already.
The menu is simple - beef brisket and pulled pork by the pound or on a sandwich and ribs with beans and potato salad sides. And let's not forget real southern sweet tea. Mmmmmm. The menu has sandwich plates for $8 and brisket/pork by the pound for $12/pound. Stay tuned for a full report!
*UPDATE*
[caption id="" align="alignright" width="307" caption="A pound of the BBQ brisket"]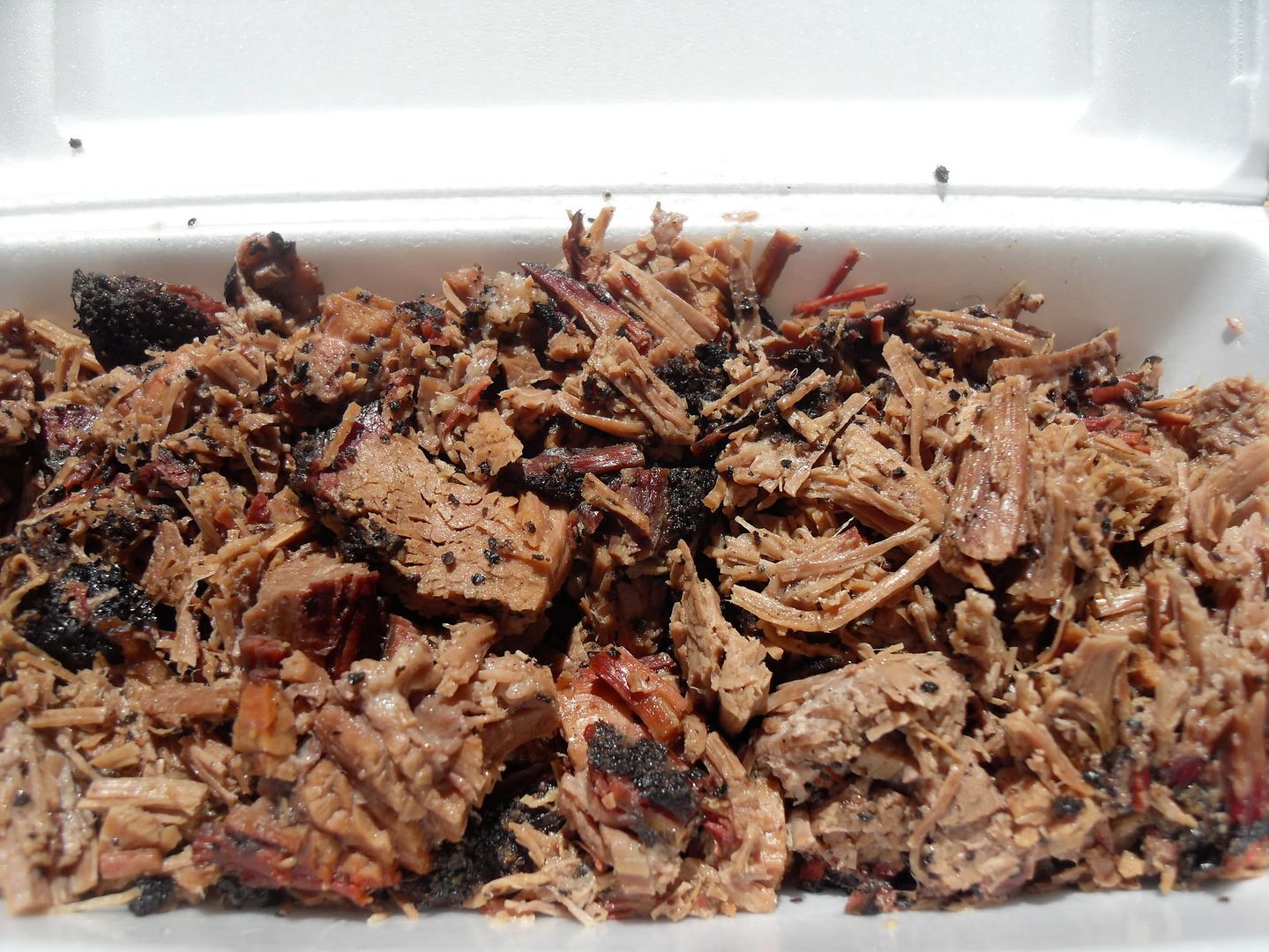 [/caption]
Big John's is as good as that sample! We went for lunch this week (at 11 am on Thursday, to be precise!) and stood in line for about 10 minutes for our pound of brisket and side of potato salad. Both were good, definitely the best in Flagstaff. The brisket is shredded, not sliced, unfortunately. But super tender and full of flavor. You can tell Big John doesn't rush his meat. You can taste the hickory smoked goodness in every bite and the smell... mmmm. It's good stuff. Big John's sauce is a bit watery but the taste is there. The potato salad is classic. A single side is $2 and is enough for two people. Unlike most Texas BBQ joints though, there's no sliced bread or pickles served along with by the pound meat here. Luckily the meat is great so I'm going to let that slide and it won't keep my family away.
I'd recommend packing a full picnic basket, stopping by to pick up your BBQ from Big Johns and heading to a local park, unless you live around the corner. That way it'll still be hot and fresh when you eat it! Perfect for a spring or summer day. I just wish Big John's was open every day so that if I get the craving for good BBQ in town, I'd be able to get it every day. Here's hoping Big John's is a success and can expand soon.
[caption id="" align="alignnone" width="446" caption="Big John's Potato Salad"]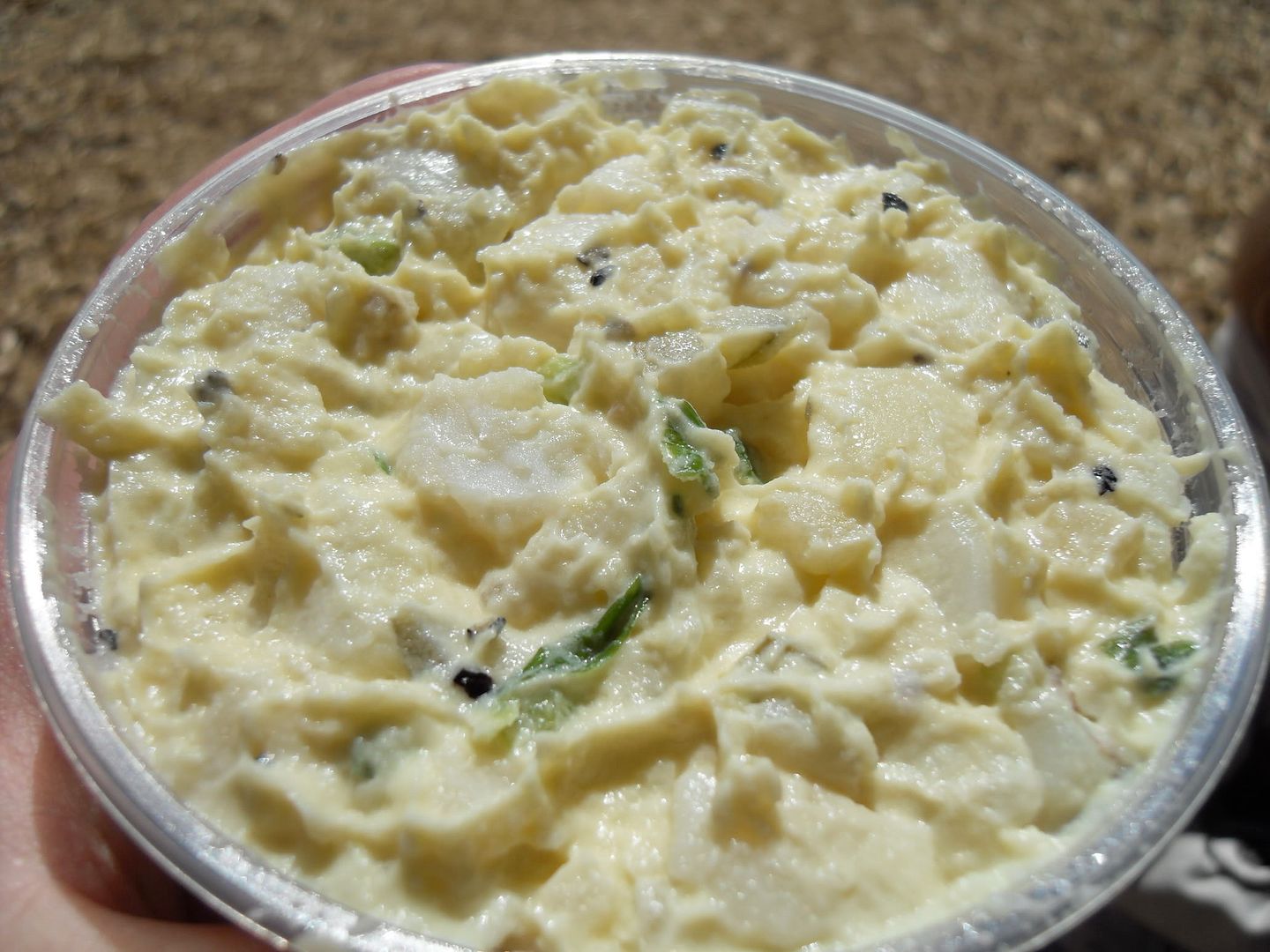 [/caption]